Next steps following Japan's Earthquake and Tsunami
Next steps following Japan's Earthquake and Tsunami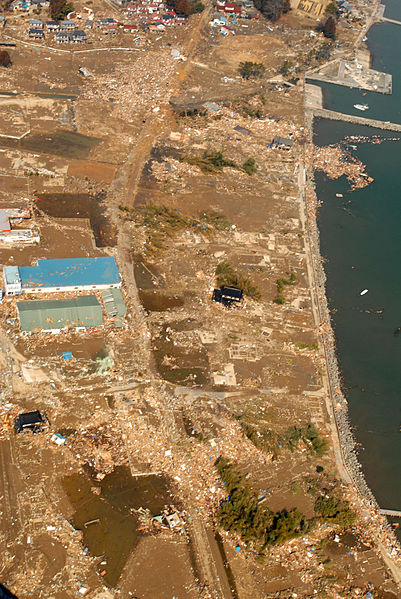 An aerial view of tsunami damage in an area north of Sendai. U.S. Navy photo by Mass Communication Specialist 3rd Class Dylan McCord/Released.
Yasushi Aoyama
, Professor in the Graduate School of Governance Studies at Meiji Univeristy, is one of the world's leading experts on disaster recovery and response. Professor Aoyama served in the Tokyo Municipal Government for 36 years. From 1999-2003, he was appointed Vice Governor of Tokyo, in charge of crisis management and disaster prevention, urban planning, and finance. On March 15, 2011, Professor Aoyama answered our questions about steps to take following the earthquake and tsunami that occurred in Japan on March 11.
Question 1: What would you say are the 3 or 4 most important steps for the leaders of government to take immediately after this earthquake and tsunami in the northwestern part of Japan?
These crisis situations are the times at which one is called into question – how much familiarity do you have over the country's land and people, in each region, and how much command do you have over the government? It does no good to engage in political battles, performance, and popularity contests. Assuming that there is a strong basis of familiarity with all of these areas on a regular basis, in this particular event the most responsible person or his/her direct subordinate should get to the scene by any means, whether helicopter, airplane, car, or on foot and assess the situation first-hand. The press has its own agenda, so it's not good to depend on the press. Then the government should appoint someone to be the on-site director. Ordinarily the local municipality would select the director but in this case the local governments are near decimated. Press conferences should also be held on-site. Right now, there is only an off-site headquarters, which is why response measures have been delayed.
Question 2: Looking forward into the next month, what are the most important steps to take?
To deliver whatever is needed by the on-site headquarters described above – that is the function of government. The first priority is still to search for and rescue survivors. Next is to set up evacuation centers. Then the building of temporary housing and evacuation to other prefectures also become necessary. Additionally, drawing up and realizing reconstruction plans.
Question 3: In this disaster, what is necessary to minimize the destructive effect on our children's education?
Many of our teachers have also been victims in this. We need to place an increased number of teachers there, including mental health counselors.
Question 4: This disaster has brought up numerous areas of concern: infrastructure, nuclear power, health and safety issues, psychological state of survivors – including children. With so many issues, how will they all be prioritized and balanced in addressing them?
What distinguishes this disaster from those of the past is that we will no longer be able to live in the abundant regions along the coast. We must rebuild our communities a little bit away from the coast. We must rebuild our towns and communities. We will need a great number of experts in these areas.
Question 5: So many of our American students have asked, "How can we help [the Japanese victims of the earthquake]?" Do you have any suggestions for them?
Writing a lot of letters is the greatest encouragement you can give.
Additional Resources

Podcasts

Chip Cameron on the Daiichi Nuclear Power Plant

Economic Impact of Earthquake Podcast with Edward Lincoln

Written Interviews

Q & A with Yasushi Aoyama, professor at Meiji University on
Next steps following Japan's Earthquake and Tsunami

Images

Earthquake Effects Sold Out Noodles


Further teaching ideas and links to resources

Online Resources for Teaching Natural Disasters
Natural Disasters
, a list of resources on About Japan related to previous natural disasters in Japan